There's so many diets out there, I can't keep track anymore! Who's to know what's the right way to eat?
No grains? Low carb? No meat? Keto who? Mainly meat? It's all so confusing and conflicting!
However, the one thing all diets seem to have in common is that vegetables are good. So I figured my best bet to eating healthy would be to eat more vegetables. They're nutrient dense, they fill you up will relatively little calories, and they keep your body functioning properly.
Luckily, I love vegetables but I know there are many people who do not because, well… vegetables just don't taste good to them.
So to help, I've assembled a few recipes that claim to make vegetables not taste like vegetables. Full disclaimer: I haven't tried these specific recipes but they look good and I hope to try them soon and blog about them collectively or individually at some point.
These carrot fries look pretty good! It's seriously just carrots with olive oil, salt, and pepper. And they're baked instead of fried.
2teaspoons.com/healthy-baked-carrot-fries/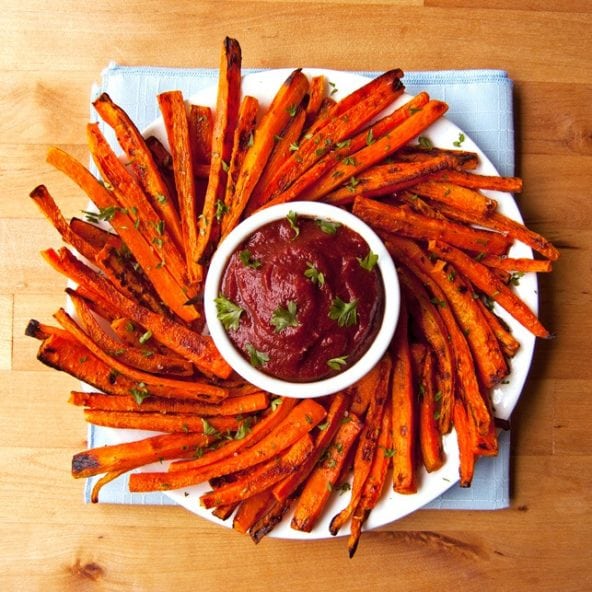 Side Note: consider using an air fryer to make these delecious. Air Fryers can range from inexpensive ($40) to expensive ($140) but well worth it.
My favorite is GoWISE USA 3.7-Quart Dial Control Air Fryer, GW22622
Instead of mashed potatoes, have mashed cauliflower. The texture, color, and (hopefully) taste of mashed cauliflower is pretty close to mashed potatoes.
allrecipes.com/recipe/230816/garlic-mashed-cauliflower/
This is simple…replace your spaghetti noodles with spaghetti squash. Then just top with your favorite pasta sauce.
foodnetwork.com/recipes/spaghetti-squash-with-marinara-recipe
This seems pretty easy to do and would make a great replacement for those late night chip binges. Plus they're baked and not fried just like the carrot fries.
allrecipes.com/recipe/176957/baked-kale-chips/
We can all try to eat a little healthier and I hope these recipes help us do just that.
Recipes to try.
Let me know if you end up trying one of these recipes or if you have a recipe of your own you'd like to share. I'd love to hear from you.
You can always keep up to date by Following my blog with Bloglovin